We use Vector files to set up artwork for:
- Screen Printing
- Digital Vinyl Transfers
- Sublimation Printing
Please request your graphic designer to provide your artwork in one of the following file formats:
.eps or .ai
If you can't supply a vectorised copy of your logo/artwork, not to worry, we can vectorise your artwork in-house. A vectorisation set up fee will apply and pricing may vary depending on the artwork requirements or decoration method you choose. Our friendly sales staff will advise you if there are any vectorisation fees required for your order.
Need more info? Our friendly Customer Support can help you out!
Contact Support or find an answer from our Help Centre
What are vector graphics used for?
Vector graphics are predominantly used for print production and artwork design. A vector file contains layers and shape information which can be edited using specialist software.
Vector vs Raster or Pixel based graphics: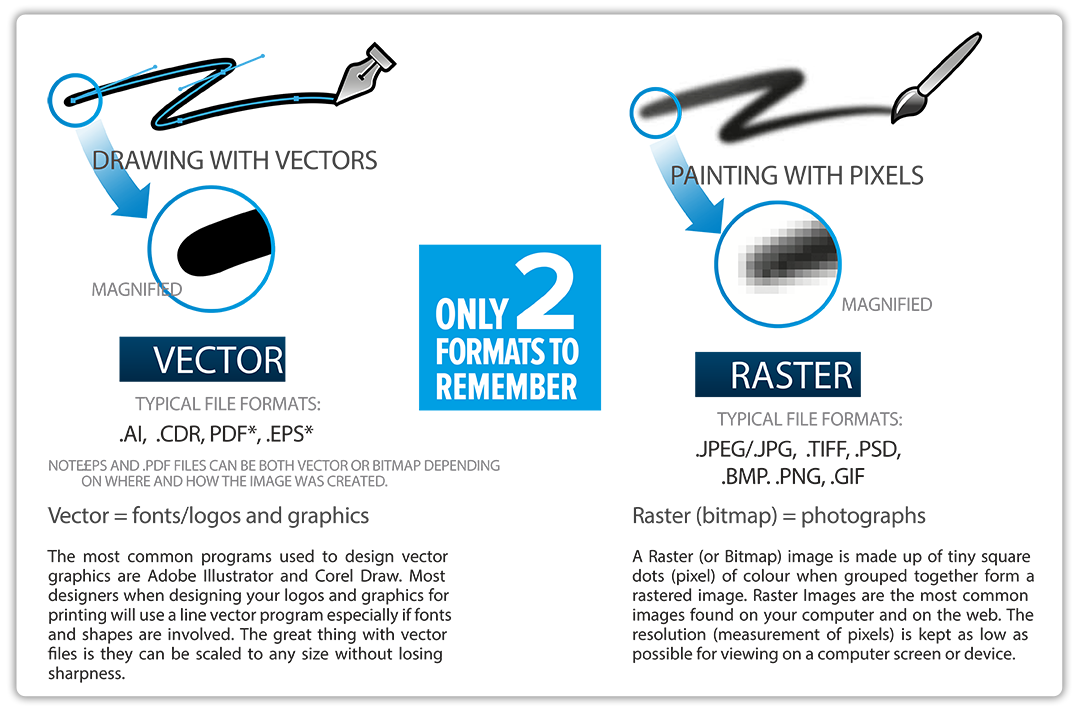 Vector Graphics
Raster or Pixel Based Graphics

Used in print production software and hardware

(Artwork files: .eps .ai)

Predominantly used for the web/digital displays

(Image files: .jpg .png .gif)

Retains editable layers and shape information

(Colours, Shapes and Layers can be changed)

A single 'flat' layer that can't be edited

(Colours and Shapes can't be edited accurately)

Can be scaled infinitely with no resolution loss

(Can print on a Business Card or a Billboard)

Loses resolution at larger scales

(Bad for large prints)

Comprised of editable points

Comprised of square pixels
Recent Posts
Beat the heat with our Streetworx tee Made from lightweight, breathable cott …

We use Vector files to set up artwork for:- Screen Printing- Digital Vinyl Transfers- Sublimatio …